Goodyear UltraGrip 8 Performance Tyres Available in Newcastle Upon Tyne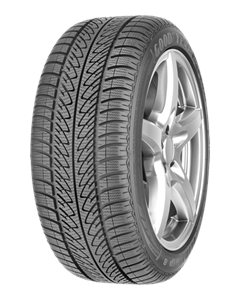 UltraGrip 8 Performance
The winter tire that delivers outstanding snow traction
Shorter braking distances on snow
Benefit from shorter braking distances when it matters most, thanks to Goodyear's 3D-BIS Technology®. This interlocking block system helps deliver braking distances on snow that are one meter shorter than the average performance of competitors' winter tires.*
Extra grip on winter roads
Enjoy confident grip in all cold-weather conditions. The winter tread compound maintains high grip levels at temperatures below 7 °C. The compound is long-wearing to give you extra mileage from your winter tires.
Improved handling
Goodyear's 3D BIS Technology® improves handling in unpredictable winter weather – from wet and dry roads, to ice, snow and slush. The optimized tire shape puts more rubber in contact with the road, increasing control in slippery conditions. The UltraGrip 8 maintains handling performance even as the tire wears, thanks to a next generation V-tread design.
High aquaplaning resistance
The UltraGrip 8 reduces the risk of aquaplaning on slushy or wet roads. A double V-groove – one groove for evacuating water and one for gripping snow – ensures good control in wet and thawing conditions. When tested against competitors' tires, the UltraGrip 8 offered 16% better resistance to aquaplaning on curved roads.